 Don't take any chances
with BeeSafe® products from PLHW
Beesafe®
---
Adjustments to safety shoes. What is allowed and what is not?
What do you have to consider? Which shoes would you recommend?
How should the orthotic be manufactured and with what materials?
These are all questions that do not always make it easy to choose the right orthotic.
Luckily, PLHW BeeSafe® can help.
PLHW has more than 15 years of experience in the manufacture of orthotics for safety shoes. With PLHW BeeSafe®, we have combined our knowledge in an online system that relieves operators and manufacturers of the burden.
In consultation with a number of brands, we have developed brand-specific working protocols and lists of suitable shoes for internal fitting with orthotics. In the model lists you will find the shoe models for which you are allowed to make your own orthotics using the prescribed materials. The work protocols describe how to do this.

The working protocols and materials used have been aligned as far as possible where only the brand-specific coverings differ. We have incorporated all models into a free software application for the registration of your product. After successful registration, you will receive all relevant documents as a PDF with your technical file.
PLHW tries to introduce the Beesafe® concept to you as openly as possible. Outsource or produce it yourself? As a specialist you have complete freedom in this.
BeeSafe® is an open system where you, the specialist, decide:

You produce everything yourself with BeeSafe® materials.
Your podolab produces the insoles for you. You register the insoles yourself.
You have your soles produced by PLHW.
With the BeeSafe® concept you have the freedom to work as you wish according to the protocols of the system. You are not obliged to produce for PLHW, you can simply produce yourself or have your production done by your own trusted partner. As long as you follow the protocols, you remain within the prescribed requirements, standards and regulations.
The BeeSafe® concept allows you to continue working as usual with only a small modification to the materials. Whether you make your soles manually or are used to milling, with BeeSafe® we try to offer the widest range of possibilities at a competitive price.
Milling blocks
Our Xstatics milling blocks are made of high-quality ESD eva that comes with a QR code for registration in the system. The milling blocks are available in a number of standard sizes and shapes.
If you have special wishes regarding our milling blocks, please let us know and send an email to info@plhw.nl with the subject ESD milling blocks and we will answer your question as soon as possible.

BeeSafe® vacuum insoles
The BeeSafe vacuum insoles are made of a high quality ESD eva from our Xstatics product group. The vacuum insoles are delivered as a set excluding the brand specific cover and/or padding elements.
The vacuum insoles have a QR code for successful registration in our software system. You can order the padding elements separately as well as the desired cover layers to make your product complete. All orders can be made individually or in bulk.
The vacuum insoles are available in various shore values, thicknesses and shapes (2) and are made to order especially for you. Please note that there is a small delivery time for this product before it is dispatched to you.
Top layer 3mm Xstatics ESD EVA 30-40 of 50 shore
Base layer 8mm Xstatics ESD EVA 30-40 of 50 shore
Processing
Roughen both ESD EVA layers and glue them together with Reniol AL ESD glue. Then heat the parts to about 90 degrees in the oven and wait until it has softened enough. Place the softened vacuum insole over your mould in your vacuum press and press the soles over your mould. Please note that pressing the Xstatics ESD EVA may cause an up and down margin in Shore value of about 5 shore.
If required, fit additional soft cushion elements from the Xstatics product group and cover the soles with the brand-specific cover layer.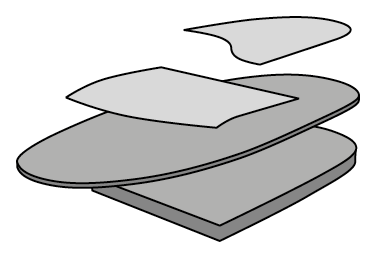 BeeSafe® prefab insoles
Various prefabricated insoles are available in the webshop. We have taken a small selection from our collection of the most frequently ordered prefabricated insoles. The BeeSafe® prefab insoles are all milled from a high quality ESD EVA from our Xstatics product group. All prefab insoles are provided with a QR code for a successful registration in our software system.
Is your shape of prefabricated inlay sole not listed here or do you have specific wishes? Please let us know by sending an email to info@plhw.nl with the subject prefabricated inlay soles and we will try to answer you as soon as possible.
PLHW specialises in the process "from visualisation to realisation" of your own product and/or concept. We have already helped several companies with the digitisation of their own insole programme and complete standard insole concepts. Are you curious as to what we can do for you? Let us know, together we will bring your wish to life.